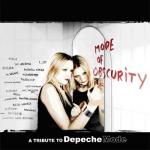 Various - Mode of Obscurity
Mode of Obscurity is a local tribute to Depeche Mode, with each band bringing their unique interpretation to one track of their choice from the band's vast musical catalog stretching over the past two decades. There are 20 tracks here, clocking in at almost 80 minutes. Any more and it would have to be a double CD... More »
Wonderboom - Hoekom?
Hoekom? is essentially the big Afrikaans sister to 2002's Rewind, Wonderboom's breakthrough album of cover versions. Here they pay tribute to some of today's most influential Afrikaans singer songwriters by covering 5 classic Afrikaans tracks... More »
Jo Day - Icon
Listening to icon I realize how far the SA music scene has come over the last few years. And I'm not talking about Pop Idol's. In a perfect world artists like Jo Day would be ruling the airwaves. And although icon is a brutally heavy rock record... More »
Hog Hoggidy Hog - Oink!
If there were any doubt that the Hogs are the godfathers of South African punk, Oink! dispels it once and for all. Hog Hoggidy Hog have been around for 8 years, almost single-handedly keeping the Cape Town punk scene alive during that time... More »
Velve - Wired Angel
Velve is not a cheerful band. It's hard to classify their unique blend of alternative rock, punk and goth sensibilities, but AFI springs to mind... More »
The Springbok Nude Girls 1994-2001