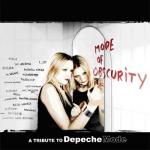 Various - Mode of Obscurity
Mode of Obscurity is a local tribute to Depeche Mode, with each band bringing their unique interpretation to one track of their choice from the band's vast musical catalog stretching over the past two decades. There are 20 tracks here, clocking in at almost 80 minutes. Any more and it would have to be a double CD... More »
Hog Hoggidy Hog - Oink!
If there were any doubt that the Hogs are the godfathers of South African punk, Oink! dispels it once and for all. Hog Hoggidy Hog have been around for 8 years, almost single-handedly keeping the Cape Town punk scene alive during that time... More »
Wonderboom - Hoekom?
Hoekom? is essentially the big Afrikaans sister to 2002's Rewind, Wonderboom's breakthrough album of cover versions. Here they pay tribute to some of today's most influential Afrikaans singer songwriters by covering 5 classic Afrikaans tracks... More »
Kobus! - 100% Skuldgevoelvry
Die hoenderman? Iewers het jy of enige iemand wat 'n poging aanwend om sy ore te stimuleer met Afrikaanse musiek dit al gehoor – die hoenderman. Ek weet verseker dat na ek blootgetsel was aan Kobus! op een wintersaand by Armchair Theatre in Observatory... More »
The Narrow - Self Conscious (Remastered)
I'm happy so say that The Narrow had a perfectly good reason for re-releasing this, their debut album. It has become increasingly difficult for fans to get their hands on Self Conscious, one of the finest debuts from a South African band in years. So in fine style The Narrow not only re-released the album, but remastered all the tracks as well... More »
The Springbok Nude Girls 1994-2001