Cutting Jade
The name of Cutting Jade's brand new album is simply called Come Back To Life. A poignant and utterly relevant statement for a band who have stared deep into the musical abyss that is rock 'n roll, and returned stronger, less confused and more certain about who they are than ever before. Come Back To Life takes you on a journey of reformation, confusion, struggle and rebirth; all reflected between the life strings of this 16-song album.
An important inspiration behind the working's of Come Back To Life was the exit of lead singer Andrew Duggan in the early months of 2004. Andrew, who had gone on to become the face of then Cutting Jade chose to leave the band to pursue a solo career. This, as one can imagine, isn't the easiest rite of passage. Cutting Jade, who had been together for 6 years before this happened, had to face up to the horrible uncertainty of their continued future in the land of SA rock. It's not the easiest or the nicest thing in the world to find someone else to fit the same size shoe and have the same good fashion sense. Cutting Jade were at a loss. Not only suffering the loss of Andrew, they also left their then record label David Gresham Records.
There are some bands who will simply admit defeat, and bow down to the myth that people are irreplaceable... but Cutting Jade are a band who breathe in an altogether different type of fire, a fire that keeps the coals burning even when the festival winds get really chilly at night.
Enter Logan. A 20-year-old student from Pretoria who has not only filled the shoes of Andrew, but taken the band and recreated it as a whole with his searing rock looks, his vocal prowess, his electrical confidence and his obvious talent. Logan, who had to go through an incredibly grueling trial run to claim the position he has now, obviously deserves where he has been placed. The story goes that after searching high and low for a vocalist to take Andrew's place, after auditioning more than 50 people, listening to and rejecting countless demo's, sound guy Jacques saw Logan perform at an open mic night at The Nile Crocodile in Pretoria. Logan agreed to audition for the position, and after performing in front of band and management was chosen as the new Cutting Jade lead vocalist. A position Logan seemed borne into. His first public appearance took place in front of 15 000 people at the 5fm Easter Rock Festival and a headline performance at The V-Town Music Festival in Vereeniging on the 1st of May. It seemed, for once, that the abyss had turned its back.
The Original Cutting Jade formed in 1998, a long, long time ago, proving today that not much will get in their way. The music runs thick, and it runs deep. Their debut album So There We Were singled them out as one of the hottest new rock acts to come out of South Africa. Featuring the hugely successful singles She Says, Little Death and Against The Wall – this independent release went on to define Cutting Jade as a band to be reckoned with, a band that could write rock songs with heart, melody and honesty.
Their second album was called Between Two Lives and featured the hits Ten Seconds, Look At Me Now, Fight You and I Want To Be. Ten Seconds was the hit single that made Cutting Jade a household name, being played all over the nations airwaves. It wasn't hugely unexpected then when Between Two Lives was nominated for 2 awards at the 2003 SAMA Music Awards.
Cutting Jade's career was set and they embarked on a national and international tour of Rocktopia. Winning fans all over the country, Cutting Jade were seen playing every self respecting festival from Woodstock to Oppikoppi and being included on numerous rock compilations the likes of the 5FM Showcased album and the 5FM Playlisted compilation.
Suffice to say – Cutting Jade had hit the big time.
Discography

Come Back To Life · 2004
Between Two Lives · 2003
So There We Were · 2002
Links
Images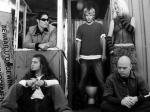 1 of 1 images More »
The Springbok Nude Girls 1994-2001